Hi! This is Young Space.
---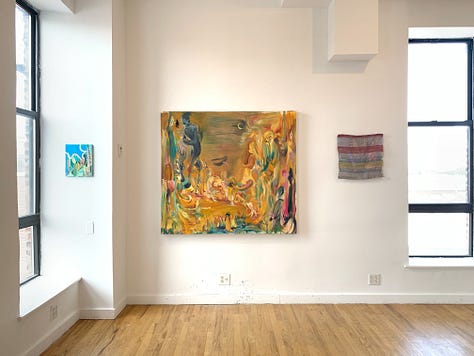 ---
Hiya! I'm Kate.
I love working with artists. When I started Young Space in 2014, in a dorm room at the University of Edinburgh, we were at the dawn of the smartphone—and with it, Instagram. For the first time, artists anywhere could share their work with a global audience that grew exponentially over the next few years.
I started out by sharing artwork I saw at shows or art fairs, simply featuring work I really liked, and over time time, Young Space grew into a go-to resource for artists, collectors, curators, galleries, and publications seeking exciting work and ideas (you can explore an archive of more than 850 artists and exhibitions on the website).
I'm so proud that this platform has been a catalyst for countless careers and projects over the years, and continues to provide a touchstone for artists and arts professionals around the world.
Young Space is a reader-supported publication. The best way to support my work is to become a paid subscriber.
Young Space on Substack is a curated weekly lowdown of what's new and next in contemporary art. I research upcoming exhibitions, opportunities like grants and residencies, and forthcoming events or books—and I touch base with artists in the studio and share insights into a variety of practices.
This project is founded on the premise that art is for everyone, no matter where you're located, what stage of your career you're in, or if you're just starting to learn about contemporary art. Curated stories and insights are always global, well-informed, and accessible.
As a free subscriber, you'll receive two posts per month—every other week—containing a slew of recommendations. As a paid subscriber, you'll receive a post each week, plus the occasional special feature, opportunity, or announcement.
---
Subscribe to get full access to the newsletter and website. Never miss an update.
---
Stay up-to-date
You won't have to worry about missing anything. Every new edition of the newsletter goes directly to your inbox.
To find out more about the company that provides the tech for this newsletter, visit Substack.com.
Subscribe to Young Space
People
Young Space
The best exhibitions and projects by emerging contemporary artists, plus artist opportunities and special features—every week.